Anne Arundel County Sports Hall of Fame banquet always delivers memorable night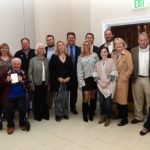 If you have never been to the Anne Arundel County Sports Hall of Fame banquet, you are missing a tremendous annual tradition.
I have attended every banquet for almost three decades now and have always left Michael's Eighth Avenue filled with joy about what this organization is doing to honor the great athletic figures in our community.
Anne Arundel County has an incredibly rich athletic tradition that deserves to be remembered and recognized. As someone who has chronicled the sports scene in this county at the recreation, high school, college and professional level during a 30-year tenure with Capital Gazette Newspapers, I appreciate the history of Anne Arundel County athletics.
It truly is remarkable how many professional athletes in a wide range of sports this county has produced. There have been an equal number of big-time collegiate performers whose accomplishments were extraordinary.
Since 1991, the Anne Arundel County Sports Hall of Fame has been memorializing those deserving individuals whose athletic success was above and beyond.
Michael J. Wagner, the late state senator and businessman, established the Anne Arundel County Sports Hall of Fame along with a group of close associates. It was an idea Wagner had been considering for many years and he put words into action by forming a committee consisting of political movers and shakers along with key figures from the local sports scene.
I was honored to be selected to serve on the inaugural Anne Arundel County Sports Hall of Fame Board of Directors along with some real heavy hitters. Ted Sophocleus, the late Linthicum pharmacist and longtime politician, was the initial president and did great work in getting the organization off the ground.
Bernie Walter, the legendary former athletic director and baseball coach at Arundel High, served as president for well over a decade and took the Anne Arundel County Sports Hall of Fame to new heights.
There have been many others, too numerous to mention here, who have been instrumental in establishing the Hall of Fame as an institution in Anne Arundel County.
On Wednesday night, the 29th annual Anne Arundel County Sports Hall of Fame induction banquet was held, and it was yet another amazing trip down memory lane. Former professional baseball players Derek Hasselhoff and Craig Wilson were joined by football great Tanardo Sharps and legendary high school football coach Joe Papetti in forming the Class of 2019.
An impressive crowd of more than 350 packed the main ballroom at Michael's Eighth Avenue for a nostalgic night that featured lots of laughter, tears and standing ovations. Renowned softball coach C.J. Holler was posthumously presented with the County Executive's Award, while the Hero's Lacrosse organization received the second George Mills Memorial Team of the Year honor.
This banquet is always a first-class affair with well-known Glen Burnie singer Tim Koenig kicking things off with a rousing rendition of the national anthem.
Not many events of this nature feature a pair of professionals serving as co-masters of ceremonies. For years, former Baltimore Sun sportswriter Pat O'Malley and recently retired WBAL Radio anchor Keith Mills have teamed up to handle the introductions.
South River Seahawks nation turned out in force to support Papetti, who started the football program at the Edgewater school when it opened in 1978. Mitch Suplee, one of the greatest players in South River High football history and an Anne Arundel County Sports Hall of Famer himself, spearheaded a drive that produced seven tables worth of supporters.
Papetti also founded the football program at Glen Burnie High in 1964 and it was equally impressive to see two tables of former players from that school as well. Many wore their old Glen Burnie jerseys in honor of their beloved former coach, who directed the only undefeated season in school history in 1967.
O'Malley, who once hosted a weekly radio show on WNAV in Annapolis, pulled out a big surprise by playing a recording of an interview he conducted with Papetti and Suplee following a South River game in 1986. All the former Papetti players in the room were in tears about hearing the old coach's voice again after all these years.
Papetti died July 22, 2010 and was represented at the banquet by his son and namesake. Joe Papetti did an outstanding job of capturing the essence of what his father was all about, both as a player and a parent.
Pasadena pride was on display in a big way with more than 75 family and friends turning out to cheer on Hasselhoff, who played nine seasons of minor league baseball and was on the cusp of being called up to the majors on several occasions.
Denise Curtis Seidler was one of the big organizers on behalf of Hasselhoff and said almost everyone she contacted readily purchased a ticket.
"Each person – including family, co-workers, past teammates, coaches and lifelong friends – said 'Absolutely, I wouldn't miss it.' That says something about Derek and his character. When you're a friend of Derek's, you're a friend for life," she said.
Hasselhoff requested to be presented first so he could get his acceptance speech out of the way quickly then relax and enjoy the rest of the night. The former Chesapeake High and Towson University standout expressed regret that his parents did not live to see him receive such a prestigious honor. However, the talented right-handed pitcher was thrilled that his 7-year-old son Brodie was on hand.
Sharps is an ordained minister, having followed in his father's footsteps in that calling. The former Meade High and Temple University star sounded like a preacher delivering a sermon with his eloquent speech.
Members of the audience spontaneously clapped in approval on at least five occasions because Sharps made so many meaningful points. After leaving the banquet, Sharps headed straight to the hospital to support Meade High head football coach Mike Francis, whose wife was admitted on Wednesday.
Sharps is now the offensive coordinator for Meade football and is so selfless that he was thinking of others on his own big night.
Annapolis High athletic director Pete Alvanos bought a table to show support for Wilson, one of the greatest athletes in school history. Alvanos played football and lacrosse at Annapolis and knows well that Wilson was a legendary two-sport standout, the 1981 Rhodes Trophy winner in football and the finest baseball player to ever walk through the doors of the school on Riva Road.
Larry Brogden, the longtime Annapolis High baseball coach, was in attendance along with many of Wilson's old friends from the Parole neighborhood to go along with a strong contingent of family.
Considering he played six seasons of Major League Baseball, Wilson's induction was long overdue. However, the wait made the night even more special for all those that love and care for Wilson, whose wife is bravely battling a serious illness.
Hero's Lacrosse was established in Anne Arundel County in the early 1970s and provided an incredible summer league experience for thousands upon thousands of local player until disbanding this year.
Hero's was a fitting recipient of the Mills Team of the Year Award which recognizes sportsmanship and community volunteerism within the local sports world.
Holler was proud and honored to have been chosen to receive the County Executive's Award for longtime, exemplary service to Anne Arundel athletics. The Linthicum native, who was an assistant with the North County softball program for nearly three decades, died last month following a courageous bout with cancer.
Linda Parks Chandler, who played for and coached with Holler, accepted on his behalf. She spoke beautifully about how much Holler cared for every player he ever coached and the passion he always displayed for softball.